Mail Management
Providing the perfect solution for your notification letter production and fundraising mailings.
Whether you have a few hundred or a few thousand letters to produce this system will remove many of the headaches associated with this regular but important operation.
Very simply you install our print driver on to your computer, put through your data before 3pm and your letters will be processed and in the post that same evening, and all for less than the cost of a second class stamp per item.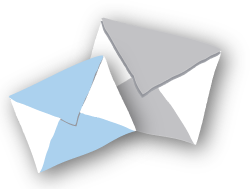 St. Margaret's Hospice
When we first read about Spark & Zoom's mail management system, we jumped at the chance to try it. We've used it for our Gift Aid notifications since the end of 2012 and it's been brilliant. Early in 2014 Spark & Zoom added the facility of incorporating two bag labels into the letters to encourage more donations and we have used this on our last three notification runs.

Happily, the hoped for increase in donations has been achieved.

Easy to install, easy to use, and economical; plus no more worries about overheating printers, paper jams, and stuffing envelopes by hand. Highly recommended!
Susan Kerber, Retail Administration Manager
Princess Alice Hospice
We have been working with Spark & Zoom Productions Ltd since December 2012. The service they provide has enabled us to complete high volume Gift Aid letter runs more efficiently and quickly. A standard 2000 letter run used to take a week to 10 days to turn around; from printing the letters in house and organising volunteers to stuff letters to franking the envelopes and posting.

Now this process takes me less than an hour. At year end we produced over 8000 letters, all posted within 12 - 24 hours of sending them to print. Installation of the printer driver was simple and supported fully by one of the team. We used to plan for our Gift Aid letter runs in advance. Now it is part of our usual routines.
Cherie Noy, Retail Office Manager
The key benefits
Ideal for direct mailings from a few hundred to a few thousand
No software - just download the unique print driver
There are no upfront costs
Full colour print included in the cost, maintaining brand consistency.
Eliminate stock holdings of stationery, envelopes and print consumables.
Your office mail can leverage the significant postal savings that we generate due to our overall scale without any investment from you.